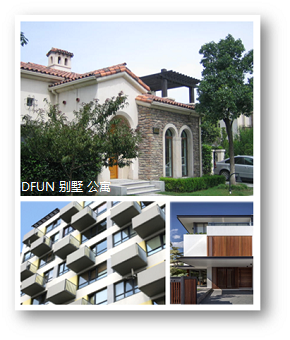 Residential applications
For private villas, geothermal heat pump is the most stable, most cost-effective, most comfortable air conditioning and heating system.
Outdoor temperatures fluctuate with the changing seasons but underground temperatures don't. Four to six feet below the earth's surface, temperatures remain relatively constant year-round. A geothermal system, which typically consists of an indoor system and a buried earth loop, capitalizes on these constant temperatures to provide "free" energy. In winter, fluid circulating through the system's earth loop absorbs stored heat and carries it to the heat-pump unit. The unit makes the heat to a higher temperature and distributes it throughout the building. In summer, the system reverses, pulling heat from the building, carrying it through the earth loop and depositing it in the cooler earth.
The three main parts consist of the heat-pump unit, the liquid heat-exchange medium (open or closed loop), and the indoor system (air-delivery system or water-delivery system & fan coil).
One thing that makes a geothermal heat pump so versatile is its ability to be a heating and cooling system in one. With a simple flick of a switch on your indoor thermostat, you can change from one mode to another. In the cooling mode, a geothermal heat pump takes heat from indoors and transfers it to the cooler earth through either groundwater or an underground earth loop system. In the heating mode, the process is reversed.
Geothermal heat pumps can provide all of your hot water needs on demand at the same high efficiencies as the heating/cooling cycles. An option called a desuperheater can be added to DFUN's heat pumps. It will provide significant savings by heating water before it enters your hot water tank.
DFUN users the desuperheater technology of waste heat recovery, to obtain adequate living hot water for washing bath, and really does waste heat utilization, greatly increasing the efficiency of the unit itself at the same time.
Through the i-Warm system of DFUN, users do not have to worry about additional energy consumption and carefreely enjoy the instant heat hot bath water.
"Say good! After using" -- With rich experience in the application and a highly responsible attitude, DFUN always adheres to carry out all construction by our own staff, carefully choses material, is committed to providing the highest degree of comfort, lower operation cost, and almost "maintenance-free" GSHP comfort system. Nowadays, hundreds of villa users in the experience of the application, has become the DFUN's reputation as an active communicator, and laid the cornerstone of the steady development of DFUN.
"Advocate of villa comprehensive comfortable life" -- DFUN insists that: The comfortable life of high-end villa not only depends on the quality of air conditioning and heating equipment, is influenced by many other factors in the building. Comfort is a comprehensive feeling, which is formed by comprehensive factors. DFUN efforts to guide users to focus on the inside air quality of building, to pay attention to the radiation temperature influence on human body comfort, to concern about whether the hot water is open to use...
Today, the DFUN integrated system has more than 1000 ground source heat pump users. DFUN has not only accumulated rich successful experience in system integration of private villas, but also achieved extremely successful application in geothermal heat pump project of hardback high-rise apartment district and villa district.
-- Related cases, see: Geothermal heat pump project of Lehuju 1688 hardcover Apartment; East Hengsheng International Community Villa geothermal heat pump project.
DFUN has successfully developed intelligent system based on hand-held terminals, users can also view or set up their own comfortable system Settings at any time in the WIFI or network environment, and the system can be incorporated into the remote management of DFUN network, by the professional personnel to escort your equipment operation, to obtain private service.
Central fresh air, central dehumidification, intelligent and a series of auxiliary system, can meet the diverse needs of villa owners.