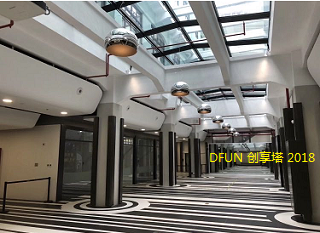 Commercial application
Both office buildings, hotels and commercial center, the central air conditioner is essential. The comfort of central air conditioner system may be the important factors that affect employees' work efficiency, even for commercial business is also important. The energy consumption of the central air conditioning system occupies 60-80% of the total building energy consumption, and has become the absolute weight of the construction operation cost.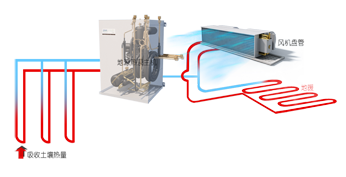 Geothermal heat pump system is a central air conditioner system with water cooling type, with a set of pipe in the soil heat transfer to obtain energy, to provide indoor air conditioning and heating, and can be based on the need to provide hot water. The whole system consists of: buried heat exchanger, the heat-pump unit, circulating pump, indoor air conditioner, air conditioner terminal equipment and piping and fittings.
Geothermal heat pumps, as well as all other types of heat pumps, have efficiencies rated according to their coefficient of performance or COP. It's a scientific way of determining how much energy the system produces versus how much it uses. Most geothermal heat pump systems have COPs of 4-4.5. That means for every unit of energy used to power the system, 4-4.5 units are supplied as heat. Where a fossil fuel furnace may be 78-90 percent efficient, a geothermal heat pump is about 400 percent efficient. Some geothermal heat pump manufacturers and electric utilities use computers to accurately determine the operating efficiency of a system for your building.
Geothermal is the only renewable that provides reliable operation 24 hours a day, 7 days a week, 365 days a year, making it The Reliable Renewable. By using the infinite energy source in the earth, a geothermal heat pump operates efficiently and effectively all year-round—rain or shine, day or night, windy or not.
Geothermal units aren't subjected to the punishing effects of outdoor weather or fuel combustion, so they last longer than nearly any other heating and cooling system. According to the US Department of Energy, geothermal units have an average equipment life of 25 years while the underground loop system has a rated material life of more than 100 years. Ordinary air conditioners, furnaces and heat pumps usually last 8-12 years.
Geothermal heat pump, has water - water units and water - air unit two kinds, its user load side can directly provide hot and cold air through blast pipe to supply air, can also be delivered to each user area through cold and hot medium water which made by heat-pump unit machine, by the air conditioner terminal equipment to supply air. This greatly increases the flexibility of the application, and can according to the different functional requirements of different areas, set up the corresponding combined type of air conditioner terminal, and can easily implement the independent use and measurement between separate owners. In fact, the unit category of geothermal heat pump can replace all the indoor terminal type of traditional central air conditioner.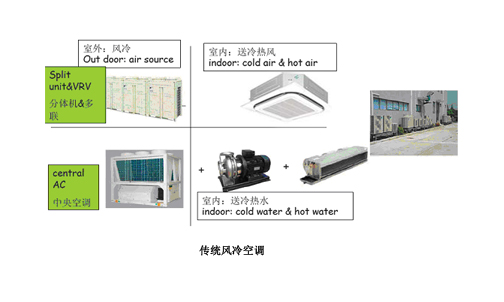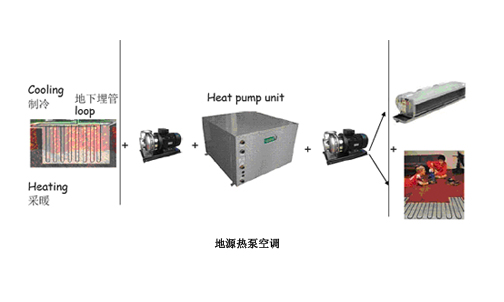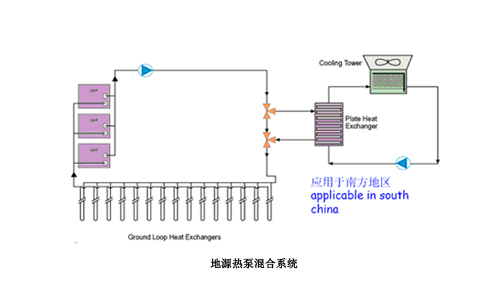 For the large-scale buildings, usually it is not just a single ground source heat pump system, but it needs to increase the hybrid system of auxiliary heat dissipation source(Northern region as auxiliary heat absorption source), namely the buried pipe and cooling tower provide refrigeration cooling in summer (for example, to the south region of the Yangtze River), and winter heating is provided by the buried heat exchanger.
* About the balance design of underground heat transfer for ground source heat pump, please contact DFUN technical personnel.
Geothermal heat pump is greatly reduced the energy consumption and maintenance costs of the air conditioning system and meet the needs of diversity functions. Energy saving and emission reduction, reflect the social responsibility of enterprises.
Geothermal heat pump is the efficient and energy-saving "generalist"!