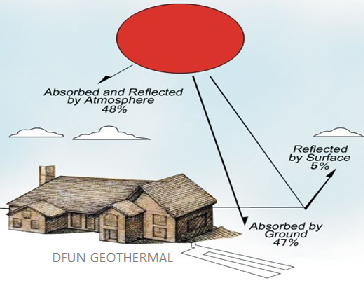 Geothermal energy's continuous
The ground is able to maintain temperature consistency because it absorbs 47% of the sun's heat as it hits the Earth's surface. The shallow surface of the Earth thus become continuous constant energy carrier. The geothermal heat pump is an effective indirect use of solar energy, is not subject to regional and resource constraints, it's everywhere. Because of an almost infinite, continuous constant, and the characteristics of the cycle, the application of geothermal heat pump becomes the most available, clean and renewable energy utilization.
This technology is used to provide your home or office with access to an infinite energy source for heating, air conditioning, and hot water.
Resources are used more and more less, the sun rises every day!
In the winter, the geothermal heat pump system collects heat of nature from the earth through the closed pipes buried in the ground, then the energy which's enhanced will be available to the user's indoor heating. In the summer, the running process is the opposite, the ground source heat pump system will drain the excess heat from indoor extraction into the loop to be absorbed by the earth, so that the house will get cold. The shallow earth surface become the carrier of geothermal heat pump heat absorption and heat removal, ensure the ground source heat pump cycle energy transfer.
To geothermal heat pump: Energy is not created, but only in the circle!