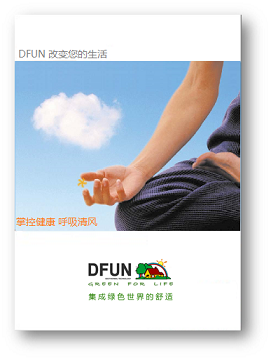 Fresh air brings health
Geothermal heat pump, freely assembles the fresh air system, brings fresh air into the room, and quietly enjoy the invisible health!
Scientific combination of fresh air system, not only makes breathing more healthy, but also can greatly save the energy consumption of fresh air!
Environmental air of the city is polluted, through the purification filtration system at molecular level to the introduction of outdoor fresh air, we strictly control the quality of fresh air. The fresh air system of bidirectional heat recovery, in the form of indoor air pressure balance, recycles the energy of exhaust. The proprietary humidity control system, automatically determines humidity of the introduction of fresh air, especially in the rainy season, makes you carefreely feel comfort brought by fresh air, and eliminates the boring wet air intrusion at the same time.
* Humidity control system is DFUN own system.
DFUN will change your life, add "oxygen" to the air, and make breathing more healthy!