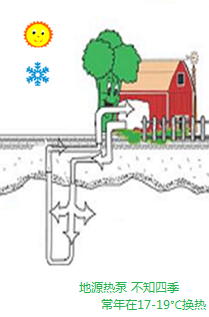 GSHP has better heat transfer conditions
Traditional air source air conditioner, In summer, air-conditioned outdoor units are exposed to the sun to 50-60 degrees Celsius environment to absorb the cold to supply the indoor; In winter, the source of indoor heating is the heat absorbed by the frost-covered heat exchange sheet of the air-conditioned outdoor unit.
Geothermal system is different! The cooling / heating heat is through the underground soil perennial nearly constant temperature in the heat exchanger.
The temperature of underground soil is far lower than the temperature outside in summer, far higher than the outdoor environment temperature in winter. In addition, the unique characteristics of the soil thermal storage, summer heat is also stored in the winter to use, and the winter cold moved to the summer.
Good operating conditions, so that the operating cost of the ground source system is 2/3 less than that the traditional air conditioning system, even more expensive investment than the conventional system can be recovered in 2/3 years by reducing operating expenses, meanwhile, the service life of the system is prolonged!
Compared with the air source heat pump system, the ground source heat pump system has long service life, high efficiency and more comfortable!
Geothermal heat pump, let you enjoy the comfort, not luxury!