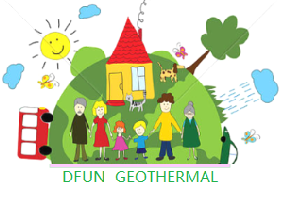 Environment friendly
Geothermal systems work with nature, not against it. They emit no greenhouse gases, which have been linked to global warming, acid rain and other environmental hazards.
Unlike ordinary systems, geothermal systems do not burn fossil fuel to generate heat; they simply transfer heat to and from the earth to provide a more efficient, affordable and environmentally friendly method of heating and cooling. Typically, electric power is used only to operate the unit's compressor and pump.
The building with geothermal heat pump, will no longer have air conditioner outdoor unit on its outer wall, also will no longer have the annoying noise of air-cooled outdoor units, will not have no more neighborhood disputes caused by noise nuisance. Geothermal heat pump makes the community environment more beautiful, and the living more harmonious!
DFUN -- advocates the combination of air conditioning and decoration art, concern with the demand of the air supply and the human body, pays attention to highly user-friendly control system, strictly controls the quantity management and standard operation procedures to ensure the stability of the system and maintenance free. We carefully build a high standard of geothermal heat pump integrated system.
Geothermal heat pump changes your life, makes life more beautiful!